Perfect for multi-server clients who need multiple rack units and expand ability.
Our racks are available in 1/8 rack (5U) up to a Full Rack (42U) and Multi-Rack configurations. All racks are connected to our UPS (N+1 Power) so you can utilize every rack unit for servers and networking equipment instead of large battery backup units. All racks are tied into our automatic transfer switch to change power over to our diesel generator.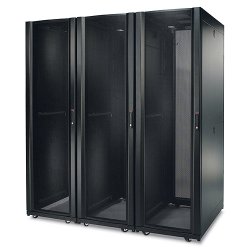 All plans include:
10Mbps of bandwidth, synchronous
Option to add sustained or burstable bandwidth up to 100Mbps (billed at 95th Percentile)
From 4 to 8 IP Addresses (depending on space)
One 1G Network Drop (optional 2 drop cable is also available)
Partial rack plans include up to a 10 AMP outlet
Full Rack Plans include one 20 AMP outlet connected to a 48 Port Metered APC PDU
Add-Ons
If you have additional needs, we have many options to satisfy any growing company's needs. Expand your colo plan by adding: additional bandwidth, additional IP addresses, expanded monitoring, additional power outlets, remote hand/engineering help, dedicated/managed firewall, intrusion detection, KVMoIP and off-server/remote backup for additional peace of mind.