Perfect for clients with a single server (or two) who need a safe, reliable facility to house their server.
Infinity Data Center specializes in single or multiple single server colocation setups where each server is allowed bandwidth, IP addresses, network drop and power outlet. This ensures each server gets the necessary resources to operate at peak efficiency.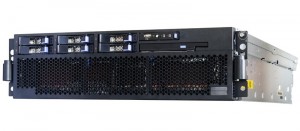 Plans for single server colocation:
1U – 6U Rack Mount Server – Priced per server based on rack space needed plus power.
Tower Server – Tower servers will be billed per laid flat height plus room for mounting trays (typically 5-6U)
All plans include:
10Mbps of bandwidth, synchronous
Option to add sustained or burstable bandwidth up to 100Mbps (billed at 95th Percentile)
1 IP address
One 1G Network Drop
One 15 Amp Power Outlet
Add-Ons
If you have additional needs, we have many options to satisfy any growing company's needs. Expand your colo plan by adding: additional bandwidth, additional IP addresses, expanded monitoring, additional power outlets, remote hand/engineering help, dedicated/managed firewall, KVMoIP, mounting trays for those who do not have rack mount equipment, and off-server/remote backup for additional peace of mind.